It's surprising what lengths some Freemasons will go to help out their communities – in this case, the length of New Zealand.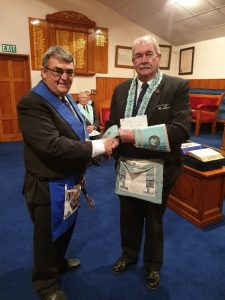 At a recent meeting of the Heretaunga Lodge No. 73, the Lodge presented a cheque for $1000.00 to John Glew, Past District Grand Director of Ceremonies. John and his wife Karyn were participating in the Pork Pie Charity Run from Kaitaia to Invercargill which was raising funds for KidsCan Charity.
A total of 60 Mini's gathered in Kaitaia to carry on with two people's vision to raise funds for a charity. This year was the 6th Pork Pie Charity Run. After six days, seven nights and over 2500 km's over some of New Zealand's best and worst roads 60 Mini's arrived in Invercargill.
To enter, there is a registration process akin to the buying of mission tickets. Registration opened at noon on the 16th April 2018. In just 7 minutes, all 60 places were filled. Entry cost $2700 per team, and you also had to undertake to raise a minimum of $1000 for the named charity, KidsCan.
A total of just over $298,000.00 has been raised for disadvantaged children throughout New Zealand. This is done by providing them with essentials to enable them to learn. This includes items like food, socks, shoes, raincoats, as well as essential personal hygiene requirements. The Heretaunga Lodge No 73 contribution was earmarked for the KidsCan in schools Nitbuster programme and other items.
Itinerary for Pork Pie Charity Run 2019
Thursday 18th April 2019
Arrival Kaitaia 2 pm onwards
Friday 19th April
Depart Kaitaia- Warkworth
Auckland stop for lunch at MININZ
via Pokeno to Hamilton
Arrive Taupo
Saturday 20th April
Depart Taupo
Horopito via National Park
Wanganui
Arrive Wellington
Sunday 21st April
Ferry-crossing, Depart Picton
Arrive Christchurch via Kaikoura.
Monday 22nd April
Depart Christchurch
via Arthur's Pass/Lewis/ Greymouth/ Hokitika /Harihari
Arrive Franz Josef
Tuesday 23rd April
Depart Franz Josef
Via glaciers, Haast Pass to Alexandra
Arrive Alexandra
Wednesday 24th April
Depart Alexandra
via Octagon Dunedin (for a mass display of 60 Mini's)
Arrive Invercargill
Black Tie Dinner and prize giving
Then a long scenic route home to Havelock North.
What an adventure!