Dollars for Digits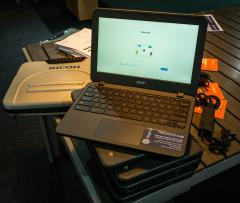 The Digits Trust, based in the Manawatu, has the mission to break down access barriers to internet and devices by supplying families with a device and internet connection for the lowest weekly price, plus providing support for safe device use ensuring a child is looked after while online. It provides Chrome Books to families who are unable to meet the cost of buying a laptop for their children to use in their education.
The Manawatu Kilwinning Lodge No 47 has contributed $3,000 to the Trust which has allowed the Digits Trust to purchase twenty Chrome Books. The donation includes money from the Manawatu Kilwinning Charitable Trust and The Freemasons Charity.
The Digits Trust and their volunteers met on 23rd September to hand out the devices to the selected families and provide the initial training. The latest meeting brings the Digits Trust total purchases to over 400 and the 20 Chrome Books purchased with this donation is one full month's target for their Trust.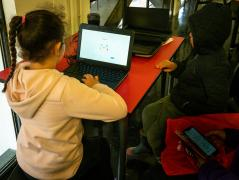 The Chrome Books are loaned to families with Intermediate School age children and they pay a modest fee to have them. There was a distinct sense of excitement as the families started to arrive throughout the afternoon to receive the Chrome Book and be shown how to use it. Lodge members were told it makes a considerable difference to their learning and lives. They will no longer feel uncomfortable or inferior among their friends who have their own computer devices.
The Digits Trust are very grateful for our contribution and it is charity at its best, benefiting those who receive and those who give. In this unique case, both the Manawatu Kilwinning Lodge and the Digits Trust are giving, while the Digits Trust is also receiving.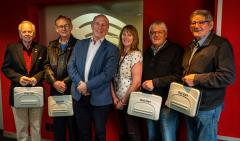 The photos show Pat (Digits Trust Chair), Bronwyn (operations), WBro Mike Kendrick (the Ruapehu District Charity Officer) in his final engagement as he hands over this role and Manawatu Kilwinning Lodge Brethren. The young girl is receiving training on how to use the device from one of the Trust volunteers.